Right now the coronavirus pandemic is keeping everyone in their homes. But that is about to change in a few weeks. Until that happens, feel free to make a list of places to see in your next vacantion. Here are some of the best places where you can go camping in Romania:
10. BLACK SHEEP – Horea Glade, Alba – 80 km from Cluj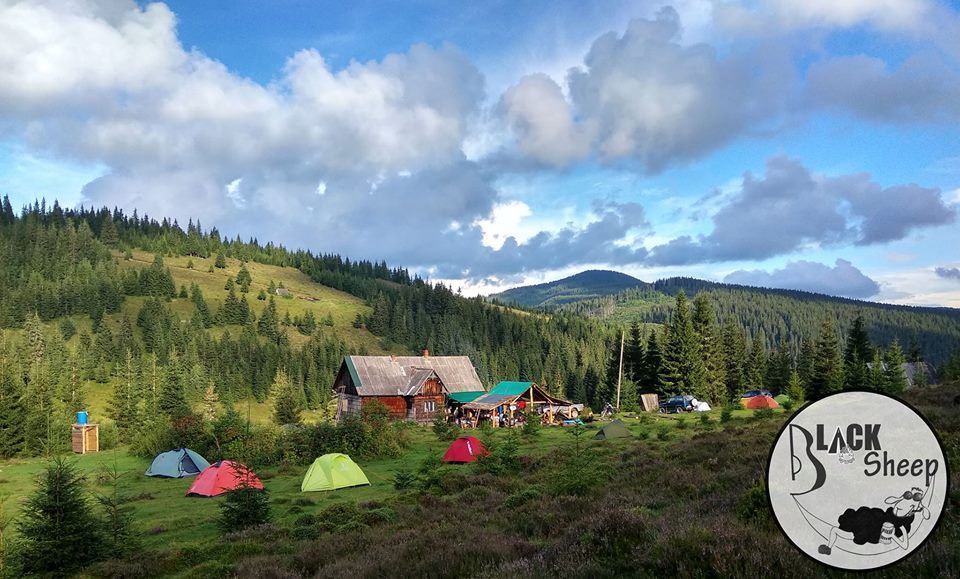 Black Sheep camp was one of the places which I wanted to see in Apuseni. Before I came I have already known it will be awesome. In fact it overcame my expectations! The owners created stunning place full of positive vibes, love and friendship. The camp is in the middle of nowhere and you are just surrounded by hills, forests and river. However there is clean shower and toilet. We were pleased by Tudor's and Dana's hospitality when they welcomed us with delicious food and palienka and we really enjoyed spending the time with them and their great friends by the fire. I will never forget the amazing athmosphere.
It is a corner of authentic Romania, where the hosts suggest you spend a few days in the place where "time is relaxed", ie in the first "glamping" (camping full of charm) and fishing resort in Romania.
8. TRADITIONAL HOUSE – ROŞIA, BIHOR – 124 km from Cluj Napoca
This amazing place can be found in Pădurea Craiului Mountains, in the Runcuri village, where we discover another wonderful place, only good to raise your tent and breathe the fresh mountain air. The traditional house is, in fact, a complex of old, refurbished houses. Right next to them, you can camp and relax, for a few days, in the smell of "green grass at home" and you can clearly see the stars in the sky. At a price of 10 Ron/person/day.
7. CAMPING LEDO – LACUL CINCIȘ, HUNEDOARA –  30 km from Retezat National Park, 5,9 km from Corvin's Castle
Camping Ledo is located on the shores of a huge lake and has an incredible story. Five villages were swallowed up, including houses, and 500 people were forced to move more than 50 years ago. And this to make room for a lake for the Steelworks in Hunedoara. Now, the area is extremely frequented by tourists. In the campsite, you can camp with both a caravan and a tent.
The entrance price to the campsite is 3 lei / car and 2 lei / person. To this is added 15 lei / day for tents and 50 lei for caravans, a price that includes the connection to electricity.
Small villages, rolling hills, wooden houses with wooden gates. Horse and carts, families working on the field. Centuries old wooden churches where people still go to in their traditional clothes. Central heating and paved roads are rare in the villages, where running water – if exists – comes straight from the mountain. Here, you can rent tents, bicycles, and the place has wifi, 10 electricity points and hammocks for relaxation.
Facebook Page: BabouMaramures
5. CAMPING FAIN – LUNCA BRADULUI, MUREŞ – 394 km from Bucharest.
Camping Fain is a camp site. You need to know that being our guest means you respect the place and the people you find here. We accept if you want to involve in our workshops and activities and we aim to develop a community of people with Fain spirit.
"Fine" tourists have 4 camping possibilities here: their own tent, Canvas tent, Dome tent or caravan camping. There is also the possibility to rent a tent here.
4.

NOMADIC COUNTRY

 – RUNC, ALBA – 70 km from Cluj-Napoca
Nomadic Country is the project initiated by two young Dutchmen, Jordi and Bente, who came, for the first time, to Romania, in 2010. Now, they settled in Runc, in the Apuseni Mountains, where they transformed a former barn into a hostel, and the yard next to the tent campsite. The campsite is dedicated exclusively to tents, and those who have small caravans must contact the owner in advance to confirm whether or not there is enough space. 25 lei, is the cost of camping for one person / day. The price of accommodation in the hostel starts from 55 lei / night.
3. DOLPHIN CAMPING – SFÂNTU GHEORGHE, DELTA DUNĂRII – 2 km near Black Sea
Green Dolphin Camping is located in Sfântu Gheorghe, in a picturesque area of ​​the Danube Delta Reserve, the place where the Danube meets the Black Sea. The campsite has 55 wooden bungalows, covered with reeds and a camping area for a number of about 500 tents. Access to the property is made exclusively by boat. Guests arriving by car can park in Murighiol. The transfer service takes about an hour.
2. CAMPING IARUL VALLEY – URICANI, HUNEDOARA – 366 km from Bucharest
5-star tent holiday in the heart of the Retezat mountains. This could be described, in a few words, perhaps the most spectacular campsite I have ever been to. It is the place that perfectly combines the freedom of classic campsites and the comfort of hotel rooms.
Facebook Page: CAMPING VALEA IARULUI
1. CHEIA – RÂMEȚ, ALBA – 33 km from Cetatea Alba-Iulia
The household is an open-air museum, in the true sense of the word, in which the main attraction is two old, thatched, thatched houses. In one lives the Suliman family, and in the other, it receives guests. In the yard of the household, the Suliman couple arranged a camping place, with a superb view of the Eagle Peak. (photo: Vlad Gabriel Ionescu).
Access to the village is only on foot. The price for camping is 5 lei / person per day, and the house is rented for 240 lei per night (4 people can sleep here, in beds, and the rest on isoprene mattresses).
More Amazing Places: Traveler in Sneakers 
Other nice places to see: