Need a car that can tackle tough off-road terrain, but don't want a supersized SUV? Here are the best miniature mud masters:
10. MINI Countryman (ground clearance 165 mm)
The Countryman might be far removed from MINI's hatchback beginnings in terms of size, but it's still great to drive. This is because the Countryman shares a platform with the BMW X1 – one of the best handling SUVs you can buy.

The Countryman should be capable off-road thanks to MINI's 'ALL4' all-wheel drive system which is available on the base-spec Cooper, Cooper S and the diesel Cooper D. The plug-in hybrid version and 306bhp John Cooper Works models come with ALL4 as standard. On the road, the Countryman is slightly firm due to the stiff suspension but the off-set of this is little body roll and engaging handling overall.
9. Volvo XC40 (ground clearance 211 mm)
The Volvo XC40 is a strong contender in the market for small premium SUVs. It's not a revelation on the road, but it strikes a decent blend of comfort and cruising refinement, and offers premium SUV appeal in a small-car package. This allows passengers to enjoy the funky, minimalist cabin and the capable infotainment system.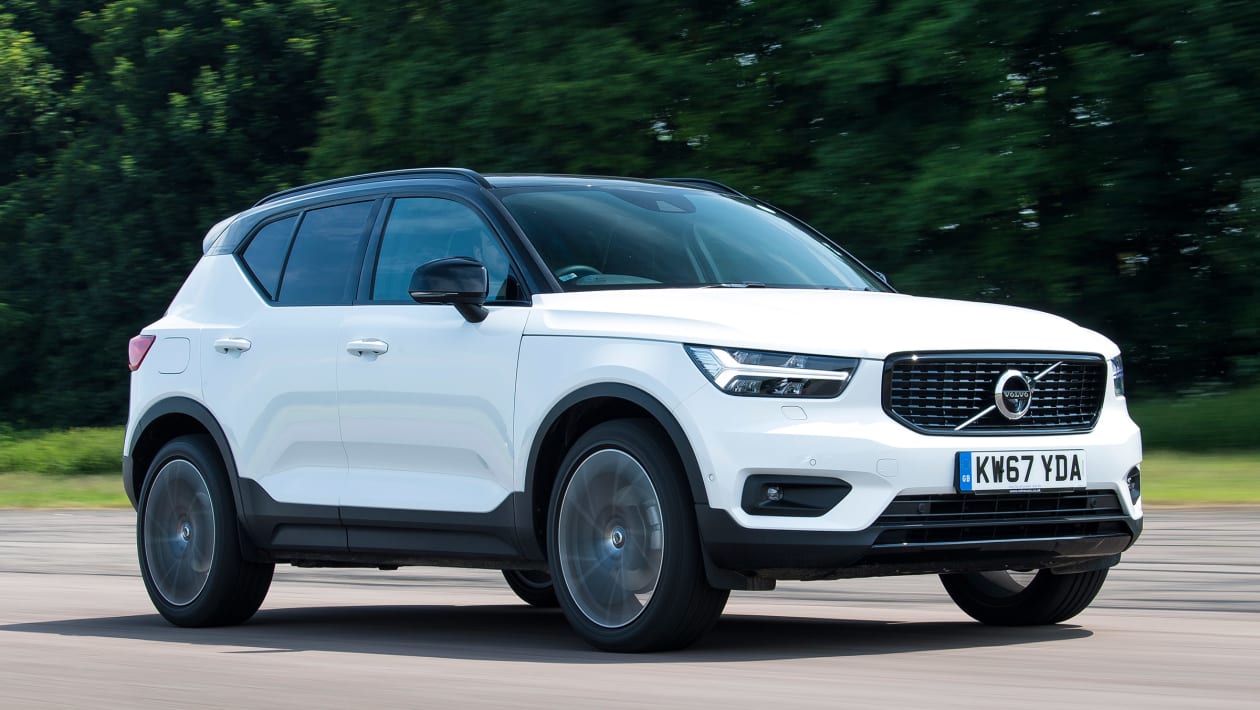 Introduced in 2017, the Volvo XC40 is a mid-sized premium SUV that majors on practicality and comfort while offering bold styling that helps set it apart from its more conservative rivals. Its great safety rating and suite of available active safety systems will help Volvo get closer to its aim of eliminating all serious injuries and driving deaths in its cars by 2020.
8. Lada Niva (ground clearance 235 mm)
The Lada Niva has been on sale since 1977 without drastic changes in its overall design. The humble off-roader has always relied on small four-cylinder engines and a full-time four-wheel drive, and this won't change at all for the 2020 model year.

The Suzuki Jimny's Russian spiritual brother continues to use a 1.7-liter naturally aspirated gasoline engine with 83 horsepower (62 kilowatts), sending power permanently to all four wheels through a five-speed manual gearbox. The 0 to 62 miles per hour (0-100 kilometers per hour) acceleration takes – behold! – 17 seconds, while top speed is rated at 88 mph (142 kph).
7. Subaru XV (ground clearance 220mm)
In a world filled with crossovers, the Subaru XV stands roof and rails above the competition. The XV boasts permanent four-wheel drive, so it is ready for the rough-stuff 24/7. While the styling of the XV might seem a little plain, it offers serious ground clearance and a decent four-wheel drive system, making it surprisingly capable off road.
Making it a left-field option, however, is the standard-fit CVT automatic gearbox (which isn't very good) and the use of its 'boxer' engine (which is pretty good) that makes a distinctive sound.
6. Suzuki Ignis (ground clearance 180mm)
Let's get one thing straight, the Ignis is small. So small in fact there are only two rear seats. But that hasn't stopped Suzuki giving it four-wheel drive.
Four-wheel drive (known as AllGrip in Suzuki-speak) is only available on top of the range SZ5 models – as is Suzuki's fuel economy-boosting mild-hybrid system.
5. Fiat Panda 4×4 (ground clearance 150mm)
The original 1980s Fiat Panda 4×4 is an off-road legend – visit the Alps and you will see that many locals still use them to navigate snow-covered mountain roads. The latest generation continues where its predecessor left off: offering buyers a competent yet compact off-road vehicle that doesn't cost the Earth – thanks to its light weight and small engines.
The Panda uses a type of four-wheel drive system which runs in two-wheel drive mode until the car registers that a wheel is spinning (helping save fuel). Furthering the frugal credentials of the Panda is the small two-cylinder petrol engine powering it – boasting a claimed fuel consumption of 6.2 L/100 KM. Yes, many cars use less fuel, but very few can go this far off road.
4. Range Rover Evoque (ground clearance 212mm)
The Range Rover Evoque is the baby of the Range Rover range. The first generation Evoque was something of a smash hit, and the recently launched second-generation promises to continue this trend, thanks to improved off-road ability, a posh interior and relaxed driving experience.
All but the entry-level D150 front-wheel drive model come with impressive off-road credentials and an automatic gearbox. There is a mix of petrol and diesel engines on offer, with a plug-in hybrid set to join the range in the near future.
3. Jeep Renegade (ground clearance 150mm)
Jeep is synonymous with producing cars capable of taking on the toughest terrain Mother Nature can throw at them. The Renegade is no exception, despite being Jeep's most affordable model.
If you can afford the price tag, you'll be getting some serious off-road technology. The 4×4 system works in two-wheel drive mode until the car senses slippage, at which point it will engage the rear wheels. Cars specced with Jeep's Active Drive Low, will also be treated to a very short 'crawler' gear, which is shorter than first gear – perfect for scrambling up and down steep hills.
2. Dacia Duster (ground clearance 210mm)
Dacia pitched its tent as selling no-frills, low cost, practical cars. Its Duster is arguably at the forefront of this, with this SUV grabbing headlines thanks to its 12.000 Euro starting price. The cheapest models are only two-wheel drive, but four-wheel drive is available on those from 16.000 Euro upwards.
As with others on this list, you can motor about in two-wheel drive mode to improve your fuel economy, with the option to lock your Duster into four-wheel drive as and when you need it. In keeping with the times, 4×4 Dusters are available with petrol and diesel power, the latter being slightly more expensive but better suited to those who do higher annual mileage.
1. Suzuki Jimny (Ground clearance 210mm)
The Suzuki Jimny is the quintessential tiny off-road SUV. Go to any agricultural show, look through all the tweed and in the car park you will see a herd of Jimnys parked alongside much bigger and more expensive Land Rover Defenders and Toyota Land Cruisers – both famed for their all-terrain skills.
Suzuki recently updated the Jimny, creating one of the most charming small off-road vehicles on sale but still ensuring it packs some serious off-roading talent. With new prices starting under 18,000 Euro – and strong value PCP finance offers – the Jimny is affordable and even entry-level models come with air-conditioning and cruise control.
Also Read: