Here are the best classic off-road vehicles of all time:
10. Hummer H1 (
1992-2006)
Based on the M998 Humvee — which was originally a strictly military-only vehicle — the Hummer H1 was one of the largest and most-capable stock off-road SUVs of its time. The first street-legal civilian version was also famously purchased by none other than the Terminator himself, Arnold Schwarzenegger.
Over the course of its production, five different engines were included as stock options, none of which were smaller than a 5.7L V8 —  the other four options were all over the 6.0L mark. And while having some seriously burly powertrains definitely made these vehicles formidable on and off the road, they also had a number of other features that upped the ante even further. They include inherent stability (thank to their extremely wide stance), the ability to ford waters up to 30 inches deep, the ability to climb steps of up to 22 inches in height, and a good deal more.
9. Jeep CJ-2A (
1945-1949)
The first mass-produced civilian version of probably the most legendary American 4×4 vehicle of all time, the Willys Jeep CJ-2A was largely the same as its military counterparts — offering very little in the way of comforts with a heavy focus on capability, instead.
Where they did differ, however, was in that the civilian version came with a rear tailgate, a side-mounted spare tire, and bigger, bulgier headlights. Still, the CJ-2A was built with utility in mind, especially for use in farming practices — meaning it came standard with only a driver's seat and driver's side view mirror but was offered with the option to upgrade it with passenger seating, a simple canvas top, and a good deal more.
8. Ford Bronco (
1965-1977)
Few vehicles in the history of the automotive industry have had the staying power of the first generation Ford Bronco. With a production run that lasted twelve years, this 4×4 SUV is still in high demand today, with restored and beefed-up examples selling for hundreds of thousands of dollars depending on their condition.
Of course, the Ford Bronco was also an immediate hit when it came out — despite the fact that the industry had already produced a number of similar vehicles.
Clearly most well-known for building over-the-top luxury supercars, Lamborghini less-famously also created a line of military-ready SUVs. Based on two prototype vehicles called the LM001 and Cheetah, the LM002 was the first of these SUVs to actually go into production, starting in the late 1980s.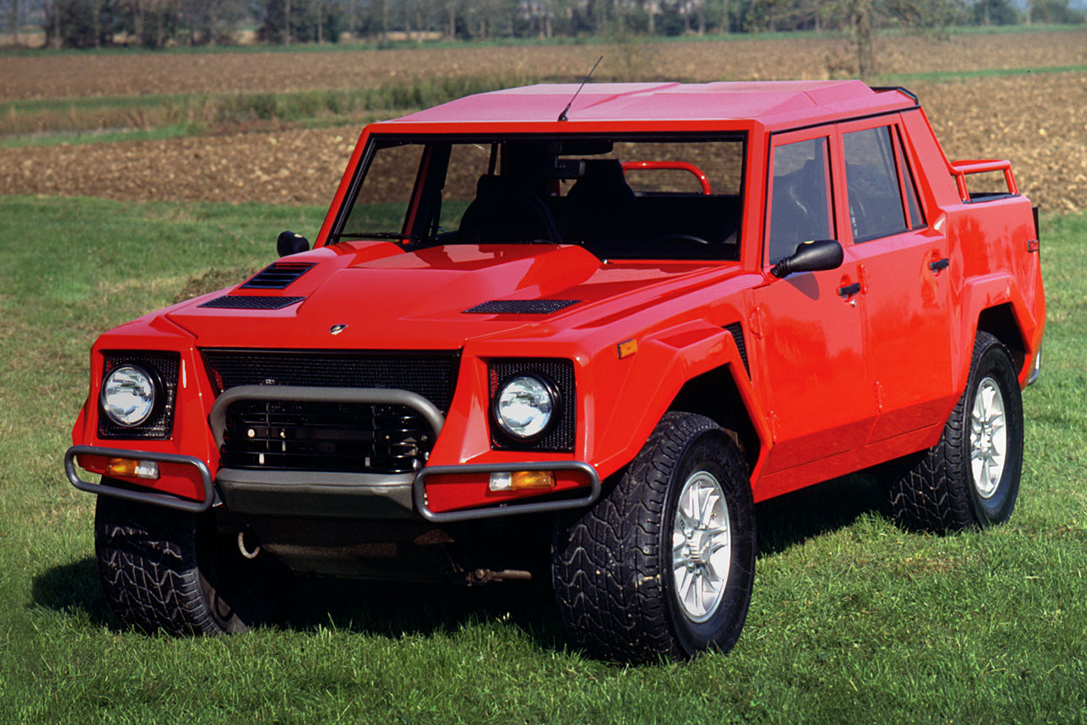 Interestingly, despite its similar styling, the LM002 was actually a completely unique build that swapped its predecessor's rear-mounted V8 engine for a front-mounted V12 — the same one found in the Countach. Playfully dubbed the Rambo-Lambo, the LM002 — while featuring an all-wheel-drive system and a good amount of ground clearance for off-road activities — was a different beast entirely on the inside.
6. Range Rover Classic (
1970-1996)
While Land Rover's first vehicles were utilitarian 4x4s used for agricultural and exploratory endeavors, by the 1960s there had been a burgeoning trend of manufacturers developing more city-friendly off-roaders that could function both as adventure vehicles and also daily drivers.
Almost as a reactionary measure, the brand decided that it was time to produce their own. Thus, the Range Rover was born. Interestingly, while it was designed to be a more urban vehicle, it was still one of the most capable off-roaders of its time.
5. Jeep Wagoneer (

1963-1991)

After the success of their military-vehicles-turned-civilian-workhorses, Jeep looked to expand its range with offerings that were a bit more comfortable. That resulted in the production of their first luxury 4×4, the Wagoneer.
Originally intended as a replacement for the Willys Jeep Station Wagon — another legendary offering in its own right — the Wagoneer was an improvement in many ways, especially in regards to off-road capabilities. This is because the Wagoneer, with its standard 4×4 drivetrain, had a significantly better standard ground clearance that paired beautifully with its burlier, up-to-date engine.
Depending upon who you ask, there are two off-roaders that stand head-and-shoulders above the rest when it comes to how legendary they are: the Jeep CJ and the Land Rover Defender. Though they have seen similar applications throughout their production history, they also have vastly different individual stories.
To clarify, the Defender name was applied to this vehicle class starting in 1983, but its history dates back a good deal further — to 1947 when the Series I Land Rover was first conceived in the aftermath of WWII. Made specifically to meet agricultural and utilitarian needs, the vehicle would see two subsequent generations (with a number of different trims) produced before the vehicle took on the Defender name.
Although the Mercedes-Benz G-Class SUV is a German automobile through and through, it came into existence at the behest of the Shah of Iran — a significant shareholder at the time. Originally designed for military use, the 250GD saw its first civilian version unveiled in 1979.
It was so successful in that initial release, it was rebadged as a Peugot P4 for the French market — albeit with a Peugeot powerplant under the hood. Known colloquially and referred to lovingly as the "Wolf," the 250GD version of the 4×4 off-roader would quickly become one of the pillars of Mercedes-Benz's business, spawning an entire range of SUVs that are still produced to this day.
Much to the chagrin of off-road enthusiasts and fans of Japanese automobiles, the Nissan Patrol wasn't available in the United States until 2016 — when it was rebadged and modified to be sold as the Armada, a version not exactly held in high-esteem compared to many of its historical brethren.
In spite of its availability (or lack thereof), there's no arguing that the Y60 — sold from the late 1980s to the late 1990s — was likely the best to emerge from the line and remains a fan favorite to this day. This is due largely to the fact that the Nissan Patrol Y60 was the first in the range to be offered with a coil sprung suspension — a huge departure from versions that came before it.
1. Toyota Land Cruiser FJ40 (
1960-1984)
Known as the J40, FJ40, or simply Land Cruiser, this Toyota 4×4 is actually a Japanese-built version of the Willys Jeep used during WWII. And that makes a lot of sense if you look at their styling side-by-side. Of course, while the initial versions of Toyota's FJ40 were nearly identical to the Jeep CJ, they didn't stay that way for long.
This is because the folks who were building it saw room for significant improvement. Widely considered the best Land Cruiser ever to be built — and with an insanely long production run of 24 years — the FJ40 was a body-on-frame SUV with slightly larger dimensions than the Jeep CJ and came with the option for a hard or soft top, gasoline or diesel power plants, low-range gearing for better torque response, and more.