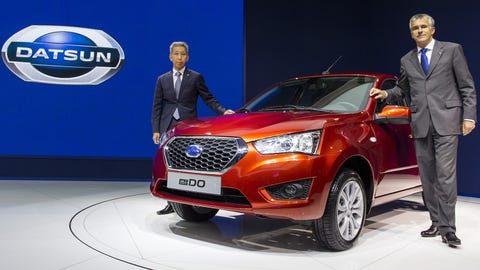 For a second time in less than 40 years, Nissan could phase out its Datsun brand as a part of its restructuring plan, Bloomberg reports. The automaker was facing strong financial headwinds even before the coronavirus pandemic, ones that worsened immediately following the dramatic ouster of Renault-Nissan president Carlos Ghosn. The cost-cutting efforts are part of a three-year turnaround plan scheduled to be revealed on May 28, along with the company's financial results.
The plan will reportedly include reductions in marketing and research, and will also phase out the Datsun brand, Bloomberg notes, which itself was reanimated in 2013 as a budget brand for India, Russia and several other developing markets. Instead, the plan will see a greater focus on the Infiniti brand, which had taken some damage over the past several years, including a withdrawal from Europe and a shortage of new models.
Datsun experienced solid growth during the first two years of its reboot but was unseen in North America, of course—and thus difficult to get a sense of from here. The volume strategy actually worked, up until it ran out of steam around 2017.
————————————————————————————————-
Reports of Datsun's impending demise have circulated for the past half-year, as Nissan's finances took a major hit during the summer of 2019, prompting layoffs of 12,500 workers globally and plans to cut 10% of its lineup. But the coronavirus crisis facing automakers has likely hastened plans to phase out the brand.
Source: Autoweek.com