Electric pickup trucks look to be the next big thing. With so many models on the way, it's time to round them all up in a list.
On Oct. 20, GMC finally spilled the beans on what the new Hummer EV pickup is all about. For starters, it's coming next year exclusively in Edition 1 trimmings. If the name doesn't give it away, these will be the first Hummer EVs to roll off the assembly line with the tip-top features, a tri-motor setup and it carries a whopping price tag of $112,595 before a destination charge. The standard pickup will come in fall of 2022 with a tri-motor setup, and in spring of 2023, the more affordable trucks will come with a two-motor system. "Affordable" is relative since it'll cost $89,995. If that's a little too rich for your blood, the "base" Hummer EV arrives in spring of 2024 and will cost $79,995.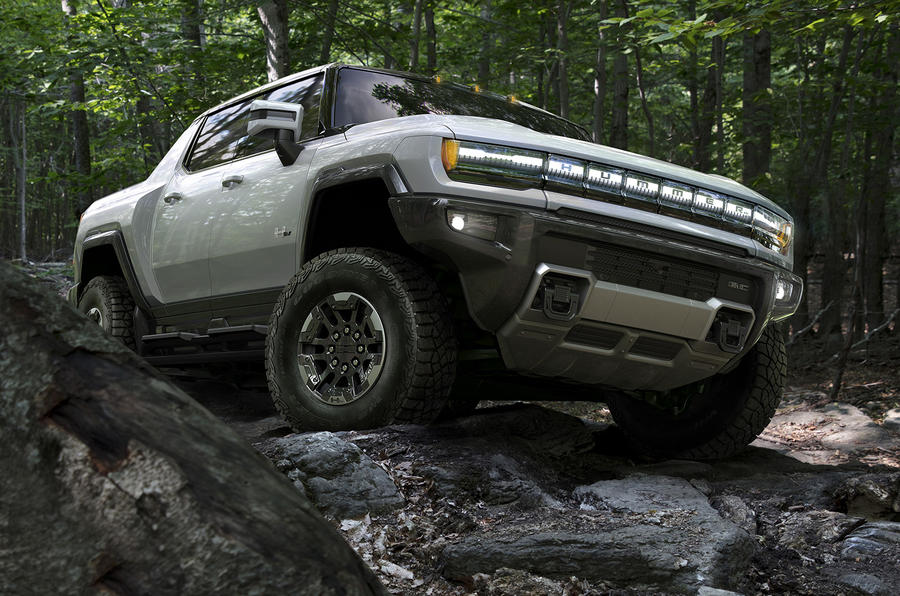 The Hummer EV Edition 1 promises 350-plus miles of range, 1,000 horsepower and an estimated 0-60 mph time of three seconds, but it's not clear if those specs will translate to lesser Hummers. I wouldn't bet on it, to be honest. For those that opt for the first Hummer EVs, there's a lot of other good stuff onboard, though.
2. Tesla Cybertruck
Tesla plans to offer the Cybertruck in three flavors: A tri-motor, all-wheel drive model, a dual-motor AWD model and a single-motor, rear-wheel-drive version will serve as the base pickup. Prices should start at $39,900, but the first trucks slated for production in late 2021 will be the tri-motor models with a starting price of $69,900. Performance ranges with the models, but tri-motor buyers will be looking at around 500 miles of range, 0 to 60 mph times of 2.9 seconds and a 14,000-pound towing capacity. Beyond that, the dual-motor should return 300 miles of range and tow 10,000 pounds and the single-motor EV pickup will go 250 miles and tow 7,500 pounds.
Tesla will build a new Gigafactory in Austin, Texas that will handle Cybertruck production, and it could start churning the pickups out come next spring.
3. Ford F-150 EV
The electric truck from Ford will have a lot in common with the F-150 — at a minimum, it'll be quieter than the truck as we know it today. In January 2019, Ford first announced its intention to build an electric F-150, and then last summer, we saw a prototype in action. Ford started to share just a little more about the electric F-150 and even showed a teaser photo highlighting a futuristic design. The automaker also plans to sink $700 million into a new US facility to build the pickup.
We expect the truck to be AWD and it'll surely be the quickest F-150, as confirmed by Ford. Electric motors can crank out a ton of power at basically zero RPM, so the electric Ford truck should be fast off the line. We don't know the power figures for the electric F-150, but we assume the numbers will be similar to the metrics released for the Rivian R1T. The F-150 electric truck will come with dual motors.
4. Rivian R1T
Rivian's R1T has garnered a vast amount of interest and held on to it. Even better, the company has a lot of credibility behind its upcoming EV pickup, thanks to an influx of investments from companies such as Amazon and even Ford.
The R1T is about the size of a Honda Ridgeline, will wade through 3.3 feet of water and should go over 400 miles on a charge with the top-spec model and its 180 kilowatt-hour battery pack. Rivian will offer two other battery pack options, 135 kWh and 105 kWh packs, that should provide 300-plus miles and 230 miles of range, respectively. No matter which, there are four electric motors to produce the power. With the biggest battery, drivers will have 700 horsepower on tap with the ability to unlock more power via updates. Running down the battery ladder, the second-largest pack provides 754 hp and the smallest still provides juice for 402 hp.
5. Bollinger B2
The Bollinger B2 is the pickup version of the Michigan-based startup firm's first vehicle, the B1 SUV, and it shares the same sharp looks and specs. Overall, the B2 is more of a back-to-basics approach, even if the starting price is a cool $125,000. At the truck's debut all the way back in 2017, the company said there will be a choice of 60 kWh or 100 kWh batteries, but Bollinger in April spoke of 120 kWh and 180 kWh batteries for its B2 chassis cab version. Thankfully, these batteries will head to the retail trucks with 200 miles of range as the starting point. The original 120-mile range estimate just doesn't cut it by today's standards.
The rest of the specs are pretty impressive, including 614 hp, 668 lb-ft of torque and a competitive towing capacity of 7,500 pounds. The B2 will handle 5,000 pounds worth of payload, too. The B2 was supposed to come to market last year, but now, it looks like 2021 will be the year Bollinger's pickup finally hits the market.
6. Nikola Badger
Nikola's best known for its work to bring electric and fuel-cell-powered semi trucks to market, but this March, it decided to toss its hat into the electric pickup game. The Badger will combine batteries with a hydrogen-fed fuel cell system to create some pretty tantalizing specs.
The company said the truck should tout a peak horsepower figure of 906 hp and muscle 980 lb-ft of torque. What also seems unimaginable is a 600-mile range, with 300 miles on battery power alone. The rest of the range should come from the fuel cell system, but if you know anything about hydrogen fuel infrastructure, it's not simple and lags behind even EV charging infrastructure. Nikola already said it plans to help rectify the issue and build 700 hydrogen fueling stations in the US, but still, hydrogen has a long way to go.
7. Atlis XT
Atlis made a splash in early 2019 when it announced its XT electric pickup truck. News has since gone quiet but it's an impressive-sounding machine. This big guy is meant to compete more with heavy-duty pickups, and the specs reflect its intentions. The company plans to offer a dualie version of the XT and it should tow up to 35,000 pounds. An air suspension will create 12 inches of ground clearance, and yes, the company plans to offer a fifth-wheel gooseneck hitch for big towing jobs.
Details on the powertrain are nearly inexistent, but we know at least one battery supply 125 kWh. Atlis also said it wants to offer the truck with 300, 400 and 500 miles worth of range in different variations. The price should start around $45,000, which seems rather ambitious, but the company also detailed an "Atlis Subscribers Club" purchasing model. For $700 per month, subscribers will get the truck, insurance, maintenance and even charging covered. The monthly cost will climb based on extra features.